U.S. House Dem Minority Whip Calls Cranley's Race in OH-01 "top ten"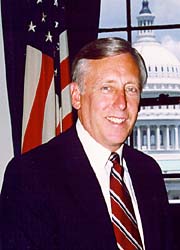 Yesterday, the Cranley campaign was paid a visit by the #2 Democrat in the U.S. House, Congressman Steny Hoyer of Maryland.
Quoted from the partisan Enquirer blog:
"This is one of the top 10 races for us in the country,'' said Hoyer, who spent time with Cranley Thursday at the Laborers Hall in Evanston and at fundraising reception in the downtown law office of Hamilton County Democratic Party chairman Tim Burke.

"We've got a great candidate and we are going to win this,'' said Hoyer, a former chairman of the Democratic Congressional Campaign Committee.

Hoyer said Cranley's challenge will be "make the people of the district see now that re-electing Chabot means more of the same.''
So Rahm Emanuel, Chair of the DCCC, called the race "ground zero". Then, the former chair of the DCCC, Steny Hoyer, who is now the Democrat Whip in the House, called it a "top ten" race in the country.
I assume this all means that Cranley is going to get a ton of Red-to-Blue funding real soon. There are only 4 months to go. I wouldn't be surprised if many more top Democrats will be in town to campaign for him. Chabot better get his act together if he wants to compete.